At Ability Action Australia, we're here to help you get what you want out of life. Our work together starts with a plan.
Engage with our concierge service
Call 1800 238 958 and we'll discuss your needs and decide together how Ability Action Australia can help you.
Meet your clinician
We will work together to assess your needs and work through your goals under the plan. A service agreement will be developed and agreed on.
Swing into action
The plan that we've created is now in action. Our range of services will help you get more out of life today.
Review your goals and decide what's next
We have achieved the initial goals. Now we need to work through what's next and how, or if, Ability Action Australia can provide you with further support.
No matter which NDIS therapy service you need from Ability Action Australia, when we work with you we are always:

Focusing
on respect, care and inclusion in every part of our service

Partnering
with you and your team to make a positive impact in your life today

Assessing
and developing a plan just for you and your needs

Advocating
on your behalf for long-lasting and meaningful community connections

Maintaining
the energy to reach your full potential and achieve your goals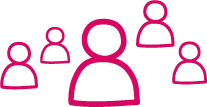 Supporting
you to achieve a meaningful and positive life