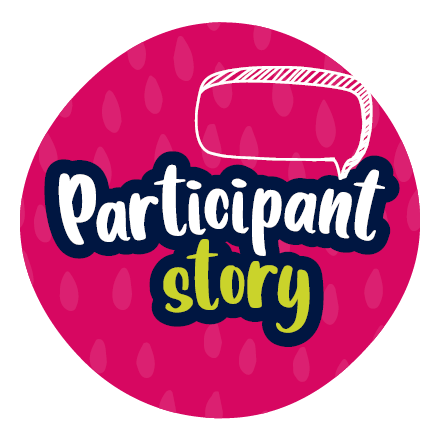 Since starting Exercise Physiology just three months ago, Colin has made such giant strides in his recovery from stroke that he's already conquered one goal and is moving onto the next.
Colin, 52, suffered a stroke in 2016 that left him with paralysis down the right side of his body as well as significant pain and fatigue when walking.
Like many people after stroke, he wasn't confident to go out alone and used a walking stick to help with short walks. He got around in a wheelchair, was unable to use stairs, and struggled to stand from a seated position.
Pain had prevented him from doing much activity until it eased up last year, at which point Colin began to attend the gym several times a week and started walking each day. However, the onset of the pandemic prevented him from making further gains in his recovery.
In March this year he felt he was in a better place both physically and emotionally to restart some physical exercise, and reached out to Ability Action Australia to request Exercise Physiology assistance with daily movements and home-and gym-based exercise programs.
Exercise goals
Colin's initial goals were to increase his walking confidence while out in the community and ensure he could safely get out of the way in an emergency. He wanted help with choosing the right exercises to achieve his goals of improving his strength and independence.
Working closely with our exercise physiologist, Melissa Coyne, they began by performing two sessions a week at his local gym to build up strength and develop confidence in using the gym equipment independently.
"The main focus for the initial five-week block was to see Colin stand from a chair without using his hand for assistance, and increase his walking confidence and speed," Melissa says.
They also did three weeks of home-based exercise physiology to develop a home-exercise program.
Outstanding progress
By week four, Colin reached his goal to stand up from sitting in a chair, and from there they transitioned to one exercise physiology session a week as he started more independent gym sessions.
At their eight-week review, Colin showed outstanding progress in his functional movement and strength assessments as well as his community access.
"Colin is now attending the gym independently every day alongside our weekly exercise sessions, often taking the bus to the gym without his support staff. He's navigating stairs through the shops and gym and he's built confidence in daily activities," Melissa says.
"He's motivated to continue his exercise habits and is hoping to keep pushing his goals further!"
Staying motivated
Now that Colin has reached his initial goals of standing from a chair independently, and increasing whole body strength and walking distance, he's raising the bar.
Colin wants to achieve a floor to stand movement and walk even longer distances without his walking stick. This will allow him to get up off the floor if he falls, and get out of the way in emergency situations.
To reach his next goals, he will need to stay motivated and persevere through times of frustration.
"While Colin is doing well and progressing towards his goals, there are still some days that he gets very frustrated or doesn't feel like exercising," Melissa says.
"Motivation and education around the necessity for exercise and the benefits on his mental health was a key component of our initial sessions and will be ongoing throughout our sessions.
"He knows that, regardless of his initial thoughts and feelings, when he exercises, he walks out of the gym feeling better than when he entered.
"Exercise improves both fitness and general health, and will help reduces Colin's risk of having another stroke."
Melissa will continue to work weekly with Colin for the next six weeks or until he's achieved his new short-term goals, and then fortnightly to monthly to re-assess functional outcomes, goals and re-frame Colin's independent exercise program.
Talk to us about NDIS stroke support
Our Exercise Physiologists can work with you from periods of six weeks to six months or longer, depending on when you achieve your specific exercise goals and independence in self-management of exercise behaviours.
All our Exercise Physiologists are registered NDIS providers with experience providing services and support to people living with disability.
If you have funds in your NDIS plan allocated to Improved Daily Living Skills or Improved Health and Wellbeing, you can most likely access Exercise Physiology services.
Contact us to find out more about our Exercise Physiology service. Phone 1800 238 958 or email hello@abilityactionaustralia.com.au today!