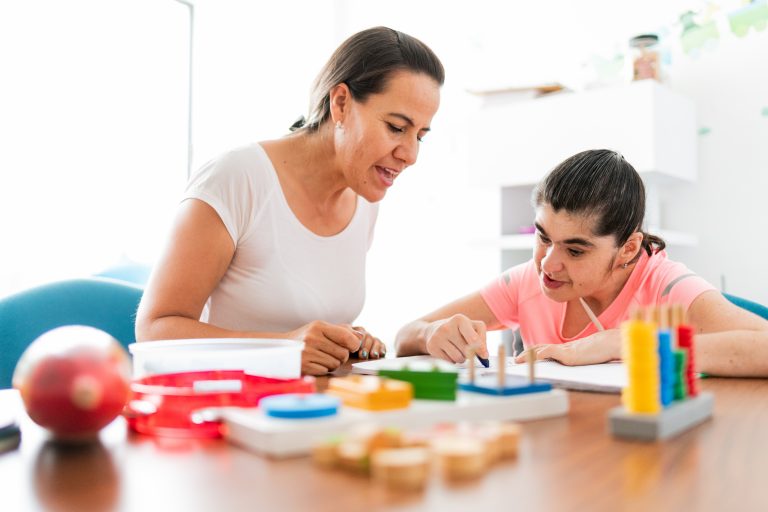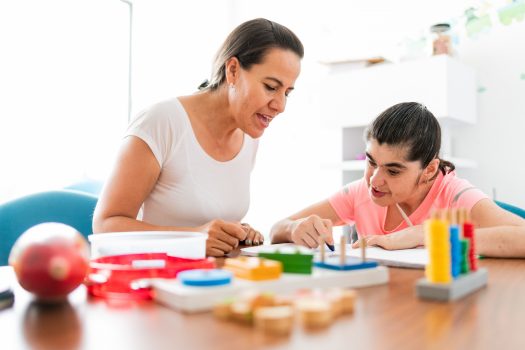 The National Disability Insurance Scheme (NDIS) is transforming the way disability services are funded and delivered across Australia while also growing the numbers and types of jobs available in the sector.
With bipartisan support and as one of the largest areas of government investment, the program is expanding rapidly, resulting in many NDIS career opportunities and making disability support a great long-term career pathway.
Whether you're a recent graduate or an experienced professional in occupational therapy, exercise physiology, psychology, or another allied health profession, working in the disability sector is a great career move with many career advancement opportunities, and will make a real difference in the lives of people living with disability.
What is the NDIS?
The NDIS provides Australians living with disability with funding for reasonable and necessary supports and services.
The funding goes directly to individuals, and as there are over 4.3 million people living with disability in Australia, the scheme is a ground-breaking social reform that is transforming the lives of many people living with disability as well as the lives of their families and carers.
The NDIS is Australia's first national scheme for people with disability, so for many people it will be the first time they receive the disability support they need — creating a fairer society in which no one is left behind.
Is there demand for work?
There are already a significant number of NDIS career opportunities, with the number of new jobs expected to continue growing across each state and territory. Many of these jobs will be created in regional and remote areas.
According to the NDIS National Workforce Plan 2021, the scheme needs to attract around 83,000 additional workers by 2024, which is a 31 per cent increase in the size of the existing workforce. Even now, there are nearly 4,000 unfilled job vacancies.
Today 450,000 NDIS participants receive support from over 11,600 NDIS providers who employ around 270,000 workers across 20 occupations. By 2024, around 500,000 participants will require support from almost 353,000 workers.
As the NDIS grows, so does its need for more qualified professionals.
NDIS career opportunities: what jobs and career paths are out there?
The NDIS occupations that are most in demand for Australia to build a responsive and capable disability workforce are allied health professionals, such as Occupational Therapists, Psychologists and Exercise Physiologists as well as employment and disability support workers.
While there are about 20,000 allied health professionals working in the NDIS workforce today, the NDIS scheme needs an additional 8,000 clinicians to meet demand over the next three years to 2024.
The sector is also focused on attracting culturally and linguistically diverse workers, and Aboriginal and Torres Strait Islander workers to the sector, to meet the language and cultural needs of participants.
Once in the workforce, allied health professionals can advance their careers by specialising in a clinical stream, such as a paediatric focused role, or by gaining expertise in areas such as client-centred or family-centred practice.
Employers in the sector are increasingly focused on developing their clinicians over the long term by offering supported career pathways as well as opportunities to take the lead on projects and develop skills so their staff can grow into management and/or specialist clinical roles.
What we offer
Like the NDIS, Ability Action Australia is growing rapidly, with new clinics opening across Australia, new participants coming on board, and a huge demand for allied health professionals to provide the services needed to support them.
Begin your NDIS career with us us and you will receive:
Dedicated support and mentoring
Support of a mentor/clinical lead – You will be linked in with one of our senior clinicians to help you develop your clinical skills
A contemporary onboarding program – Our 'Ready for Action' onboarding program is a comprehensive induction plan that will fully support you as you transition into your new role
Buddy system – You will be paired with a workplace buddy to help get your head around our work practices and provide friendly support during your first weeks and months
Ongoing professional development
Internal and external training – We provide constant opportunities to learn throughout your career and combine this with professional development opportunities internally and through our parent company, MedHealth
Specialist leads – We have specialist leads who provide guidance to upskill you in specific streams of practice, working with you to develop you in the areas you are most interested in
NDIS and organisational support
Quality assurance process – We provide training around NDIS deliverables to help you fine tune your report writing skills and take the hassle out of NDIS requirements
Structure and support from an established organisation – Ability Action Australia has a focus on growth and expansion and as part of the MedHealth group we provide the business structure and support of an industry leading health brand
Career/job offer benefits
Market leading renumeration package – We offer a market leading salary plus salary packaging, and run financial incentive programs for people who perform above their KPIs
Leadership opportunities – We offer progression pathways and opportunities for you to take the lead on projects and develop skills to grow into management and/or specialist clinical roles
Work environment
Autonomy and flexibility – We are dedicated to creating a flexible environment that allows you to balance your work with the rest of your life
A passionate and uplifting culture – Our workplace is a positive, supportive, collaborative place where we develop close relationships, trust, and empower our people
Investment in therapy hubs – We want our clinicians and our clients to have access to the best resources in a convenient location, so are working to establish dedicated therapy hubs across the country
A rewarding and fulfilling career — Working with people living with disability is rewarding and the opportunity to make a genuine difference in the lives of participants, families and carers
Learn more about what NDIS career opportunities are available
With our backing, you can begin or expand your career into an exciting future, helping our participants in the NDIS to perform everyday activities and get more out of life.
OT Graduate Program
Tailored specifically for OTs, our graduate program provides an opportunity to accelerate your learning and development within a structured and nurturing environment.
Learn More
Allied Health Graduate Opportunities
Open to a wider range of disciplines, our structured onboarding and support program backs you to make a positive start into your allied health career.
Learn More
If your résumé is up to date and ready to go and you'd like to get that in front of our careers team, please email careers@abilityactionaustralia.com.au
Or, if you'd like to start with a confidential chat to learn more about your options, please call our Talent Acquisition Team Leader Nicole Luland on 0429 697 806.