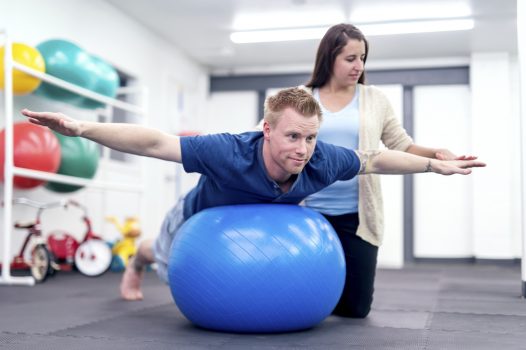 Our NDIS-registered physiotherapists use a variety of techniques to treat mental health conditions, many of which affect movement and function.
In doing so, our participants are able to not only manage the mental health issue itself, like anxiety, but also the problems associated with their illness, such as pain, dizziness and falls.
Where there are multiple health problems, our mobile clinicians work closely together to give our participants the best possible holistic care to improve their overall health and wellbeing.
The role of physiotherapy in mental health: how can physiotherapy support someone living with a mental health condition?
According to Ability Action Australia's Physiotherapy Team Leader, Alex Bush, mental healthcare has progressed significantly in the last few decades, placing more focus on the benefits of physical therapy and exercise.
"There is a strong link between poor physical health and mental health problems — it's very hard to stay mentally healthy when our bodies don't support us," Alex says.
"If we're not physically healthy, we can't fully participate in our daily activities and the things that we enjoy, which in turn can lead to poor mental health outcomes. "It's really important that the physical health of people who experience mental illness receives greater attention and support through physiotherapy."
Poor physical health can sometimes cause or exacerbate a mental health problem. For example, a participant with anxiety may have shortness of breath that contributes not only to their anxiety but also to dizziness and falls. A physiotherapy treatment plan might involve pacing techniques and controlled breathing exercises to manage the breath, as well as exercises to increase balance and strength. In managing the physical symptoms of anxiety, the participant is then able to achieve greater mental wellbeing.
What are some of the methods you use?
Physiotherapists support a person with a mental health condition by developing a treatment plan aimed at improving their mobility and function, and reducing the severity or frequency of their symptoms. The treatment plan will feature exercises designed to improve range of movement, strength and mobility.
When overseen by a physiotherapist, exercises will reduce pain and stiffness, improve quality of sleep and fitness, and enhance a participant's sense of wellbeing. They can also help with managing pain, which is often linked to mental illness.
The exercises can be repeated regularly for a set period of time, and deep breathing exercises may also be prescribed. In improving mental health, the goal will be to increase a person's participation in everyday activities, including social participation and engagement in recreational activities.
Education also plays a role in supporting someone with mental illness. Physiotherapists can talk to participants about ways of managing their symptoms on days when things are worse, as well as identify triggers for their symptoms to help manage their mental health. This empowers participants to achieve their physical and personal goals and create a sense of accomplishment in their lives.
Can you provide an example of someone who has benefited from mental health physiotherapy?
Alex is currently treating a woman, aged 33 years, living with intellectual and learning disabilities. She lives with her mum and brother who also live with intellectual disability and have social support. When the woman first presented, she had reduced breathing control due to her anxiety, and her shortness of breath caused dizziness and frequent falls. After experiencing a fall from getting up in the night and fracturing her left wrist, the woman engaged Ability Action Australia's NDIS registered physiotherapy service.
Alex's treatment plan was multi-pronged:
Physiotherapy treatment involved exercises to increase balance and strength, pacing techniques to manage shortness of breath, and controlled breathing exercises. She also worked on the left wrist to increase strength and range of movement.
An occupational therapist from Ability Action Australia was engaged to help reduce clutter in the house which contributed to the woman's frequent falls
Support workers were brought in to help with cooking and cleaning
The participant was referred to a psychologist
After two months under this treatment plan, the woman has had no further falls and is confidently mobilising outside her home. She takes part in exercises, feels more positive and is able to use her left wrist.
Contact our NDIS-registered physiotherapists
If you feel you could benefit from the support of a physiotherapy session, get in touch with Ability Action Australia today. We'll collaborate closely with you to assess your needs and work through your goals together. Contact our friendly concierge service on 1800 238 958 or complete the request contact form and we'll contact you at a time that suits.