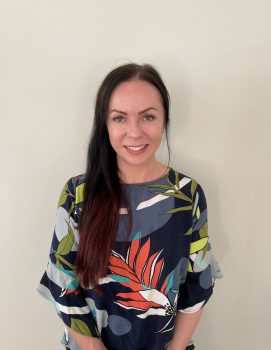 Want to know what it's like working for Ability Action Australia?
We regularly shine a light on our wonderful employees to recognise their life-changing work and give you an idea of what it's like to be employed by one of Australia's leading NDIS providers.
Whether you're a graduate, an allied health professional looking to advance in your career, or a support coordinator looking to connect participants to a quality provider, read on to learn more about what makes our people, and our company, special!
Meet Esther and learn what her day involves
What is your role at Ability Action Australia?
I am a Positive Behaviour Support Team Leader, based in Adelaide.
(Positive Behaviour Support is carried out by a PBS practitioner works to reduce or eliminate difficult behaviour. It is the best approach for children and adults living with disability who display behaviours of concern.)
What does your job entail?
I manage a caseload of my own clients, but also provide supervision and training for other Positive Behaviour Support practitioners. I am passionate about Positive Behaviour Support, so I participate in any activities and learning to help Positive Behaviour Support to be better understood and implemented in our communities.
What does a typical day in the office look like?
I travel all over Adelaide visiting clients and their support teams in whatever environment there are challenges with behaviour. I feel like Positive Behaviour Support is all about learning how to listen to behaviour, so that I can help people to live their best life and be heard by others.
I am a bit nerdy, so I love that there are also a lot of reports and plans to write and these documents are a great way to advocate for clients.
No two days are the same as no two clients or practitioners are the same. So, I could be at school helping a child transition between activities in the morning, then shadowing a new practitioner while they do their first functional behaviour assessment at someone's home, before finishing the day at a respite service sharing a behaviour support plan with someone's care team.
What do you like about your job as a PBS practitioner?
I don't like my job, I love my job! I love how creative I can be and how I can challenge myself every day, as there is always so much to learn and there are always better ways to do things. I just need to be open to searching for them. Clients, their families and support teams make everything worthwhile. Everyone is different, so being privileged to be a part of someone else's journey is a real honour. If I can make someone's day and life just that bit better and happier, then I feel fulfilled.
Why did you decide to join Ability Action Australia?
Ability Action Australia's values really align with my own. I met a wonderful woman, Heather Hill (Occupational Therapist, Perth), and after chatting passionately about disability, positive behaviour support, values, goals, ethics, and a few other random topics, I just knew that I could happily be a part of such a wonderful team of people with shared goals and visions moving forward. Since starting, I have already met so many other wonderful people and I feel really valued, excited and welcomed.
What is one thing people don't know about you?
The people that know me actually know everything about me, because I am an over-sharer. But, for everyone else there is roller skating. I just love it and wish it was a widely accepted way of getting around.
Where are you looking forward to travelling to next, now that the world is opening up again?
I love cruises, so the next cruise I would like to take is from Hawaii to Australia.
Eager to make a difference? Join our passionate and dynamic team
Ability Action Australia is always on the lookout for allied health professionals who are passionate about improving lives. We're also recruiting for a range of allied health services- are you a:
Occupational therapist?
Exercise physiologist?
Physiotherapist?
Speech pathologist?
PBS practitioner?
Psychologist?
We're interested in hearing from both experienced practitioners as well as fresh graduates. If a career with our team sounds interesting to you, look at our careers page for a list of current openings. Alternatively, send an email to careers@abilityactionaustralia.com.au to learn more about your options.