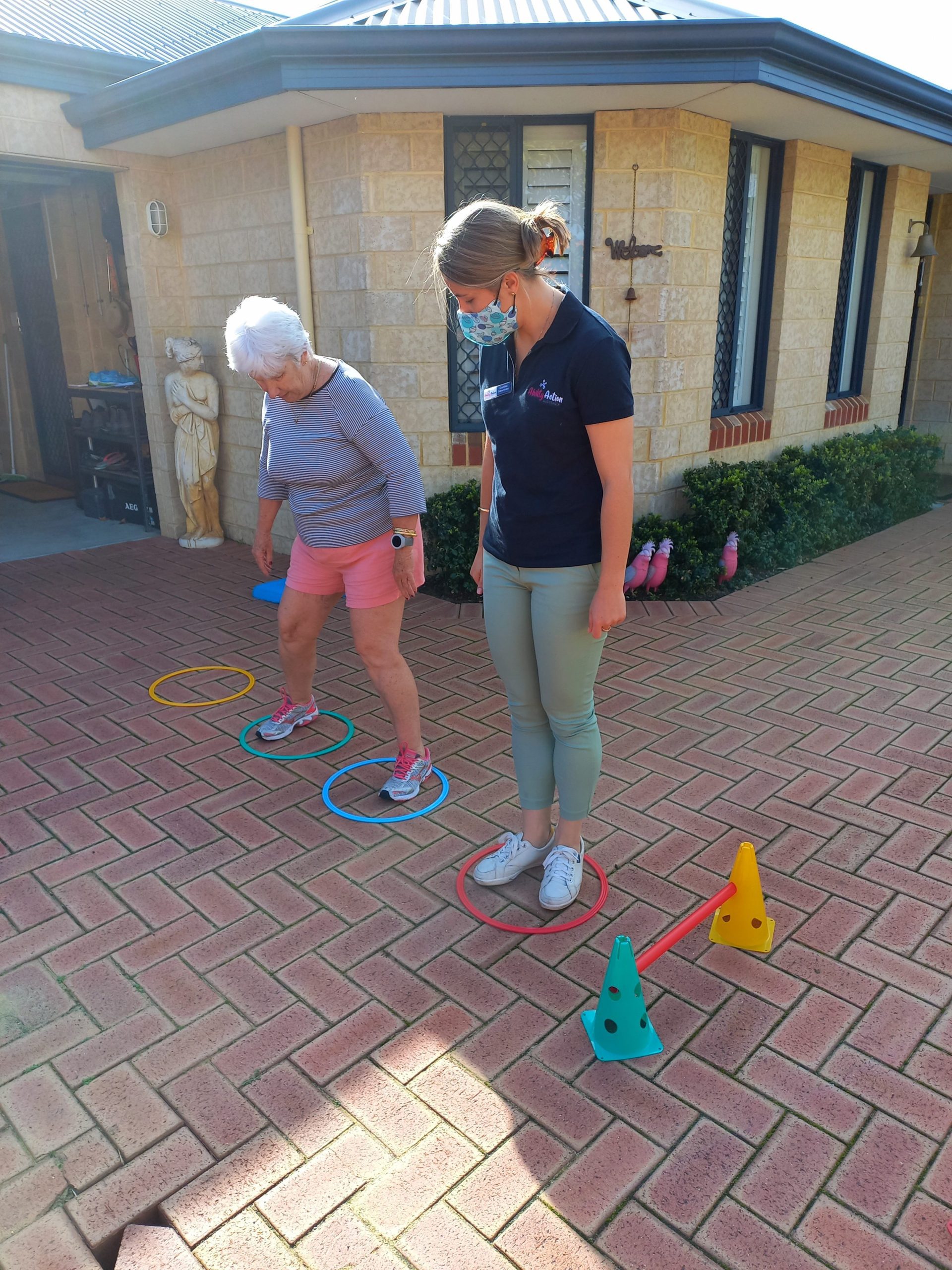 The team of NDIS Exercise Physiologists at Ability Action Australia know how to harness the power of exercise to help the body and mind. They also know that everyone is different, which is why they provide customised exercise programs to suit different needs.
This is certainly the case for Jan, a 65-year-old, from Innaloo, WA. Prior to her Alzheimer's diagnosis, Jan was an active person who loved swimming and going for long walks with her husband.
As her Alzheimer's symptoms progressed, the usually fun and energetic Jan had less energy to take part in the things she used to love. This impacted her physical and mental health and her overall quality of life.
Four months ago, things started to change. Jan's Occupational Therapist referred her to Danika, one of Ability Action Australia's accredited Exercise Physiologists.
Danika was eager to make a difference in Jan's life, along with her husband, Bruce, and Jan's son and daughter, who are all involved in her care.
Facing new challenges
Danika said: "Since Jan's diagnosis, she requires support with her self-care, such as dressing and showering, not due to physical limitations, but cognitive limitations.
"Jan experiences hallucinations and moments of confusion, for example, she forgets who her husband is and where they are going.
"This impacts her quality of life, requiring continuous support and supervision for her safety. Prior to diagnosis, Jan was a very independent women who loved to exercise."
The power of exercise
Danika started visiting Jan at her home, where the pair would take part in fun exercise classes aimed at improving Jan's balance, strength and fitness capacity.
The interactive sessions, which involved lots of singing and dancing, have been a hit with Jan, who is always raring to go.
Danika said: "Jan is always very excited to get out of the house for her walk and her strength exercise.
"We have recently started to play mini tennis for coordination and balance. I'm finding that Jan is very competitive. She is never impressed when I stuff up the rally we have going!"
A demonstrative approach
Showcasing her ability to adjust her approach to meet participants' needs, Danika uses plenty of demonstrations in her sessions with Jan.
She also helps Jan when she experiences hallucinations, finding ways to bring her attention back on the session and helping her regain her focus.
She explains: "During the session, I am very active demonstrating and taking part with Jan. She relies on a lot of physical demonstrations and verbal cues during our sessions.
"She also requires someone to bring her back when she begins hallucinating. Pointing out flowers or nature aspects, such as 'look at the beautiful flower', can bring Jan's attention back to our session."
A weekly highlight
Bruce, Jan's husband, is unable to take Jan on long walks due to his chronic back pain, but he has told Danika how much his beloved wife enjoys her sessions.
Danika said: "Jan was always very active prior to diagnosis and loved her exercise. Our sessions are the highlight of her week her husband always tells me.
"When I arrive, I am always greeted with a fast and excited hug, and she is always ready to do her exercise."
"Bruce has noticed she is a lot happier and energised when she is exercising regularly," Danika added.
A 'privilege' to make a positive impact
The team pf accredited exercise physiologists at Ability Action Australia are passionate about providing participants and their families with life-changing support, something Danika says is a 'privilege'.
"I feel so privilege to be allowed into someone's home and make this positive impact. This is why I love my job; I am very passionate about helping people and improving their health through exercise.
"To be able to put all these together and make a positive difference in their life makes me very appreciative of the position I am in, especially in Jan's case where exercise was a very big part of her identify prior to diagnosis."