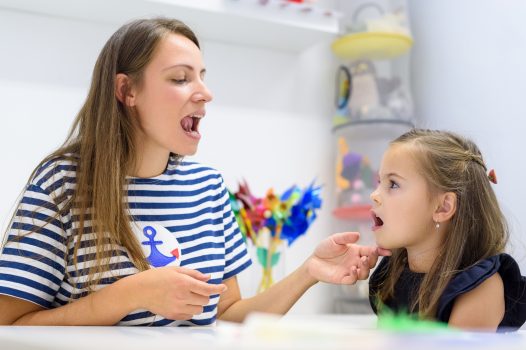 Fun, positive and engaging: this is how our speech pathology team describes our approach to therapy sessions here at Ability Action Australia.
Whether you're a parent who's worried about your child's speech or pre-literacy development, or an adult living with disability who's finding it difficult to communicate effectively, our university-trained speech pathologists are here to support you in achieving your NDIS goals.
Some participants may wonder what to expect during an NDIS speech pathology session. How do our clinicians build rapport with your child? What does a speech pathologist do to address your areas of concern? And if you or your child require multiple supports, how do we work as a team to support you?
When you seek help from one of our speech pathologists, their sessions will typically involve the following elements to support you reach your goals.
The first session
Our mobile speech pathologist will meet you for the initial session where it's most convenient for you or your child, often in your home or at one of our nationwide clinics.
After introductions, we provide you with detailed information about our service and answer any questions you have about the way we work. We then complete a service agreement, which sets out what supports are being provided and the costs involved.
For many participants, we then deliver an initial speech assessment, used to assist with the development of treatment goals and determine the best course of treatment. This assessment obtains detailed information about the following areas:
Receptive language
Expressive language
Speech (articulation/phonology)
Voice
Fluency
Social communication (pragmatics)
Play
Feeding
Literacy
Conducted in a quiet and comfortable setting free from distractions, the initial assessment can take between one and three hours to complete.
Building rapport and working as a team
Because it's the start of a working relationship, our speech pathologist will look to build rapport early on to establish a connection with you and your family before they run the initial assessment or therapy session. This is especially important for ensuring the process is not stressful for a child. We do this by engaging your child in conversation and play.
The speech pathologist will want to build up a comprehensive case history looking at you or your child's difficulties, past medical history, prior attendance at speech therapy, and involvement with other health professionals.
As a parent, family member or carer, you are integral members of the team. You may be asked to help develop a clearer picture of the participant's needs by providing information such as past medical reports, assessment reports from other providers, and school reports and work samples.
As a multidisciplinary team of professionals who collaborate in the best interests of participants, we can also use this information to recommend other Ability Action Australia allied health supports, such as occupational therapy or physiotherapy.
Therapy in action: what does a speech pathologist do to support you or your child?
Once our speech pathologist has identified the support you need and devised a treatment plan that best suits your needs, they can begin to implement the plan.
Here are some examples of the range of fun, positive and engaging activities that take place during our speech pathology sessions:
Using Augmentative and Alternative Communication (AAC) devices to help people communicate more easily. This can include 'unaided systems' such as eye contact, facial expression, body language, gestures and manual sign, or 'aided systems' like picture charts, books, speech generating devices, computers, mobile phones, and tablets.
AAC devices are useful for people who find it difficult to speak or write, such as an adult after a stroke, or a child with cerebral palsy, to help understand and find the right words to use.
Interacting with a child through talking and playing, and using books, pictures or other objects as part of language intervention to help stimulate language development.
Modelling correct sounds and syllables for a child during age-appropriate play to teach the child how to make certain sounds.
After the session
At the end of a therapy session, our speech pathologist will summarise the strategies used and discuss your progress with your support network. They'll also give you speech therapy exercises to do at home to practice your new skills and help you reach your goals sooner.
If an initial assessment was conducted, the speech pathologist will provide you with a speech pathology report, which provides all of the information collected during the assessment including background information, current level of skills, a comparison of your skills compared to others in your age group, recommendations regarding therapy, and referrals for other professionals.
Talk to us
What's causing communication challenges? What does a speech pathologist do to provide support? Are there other things that speech pathology can support you with? Contact us today on 1800 238 958 for further details about how our speech pathologists can support your communication and language needs.