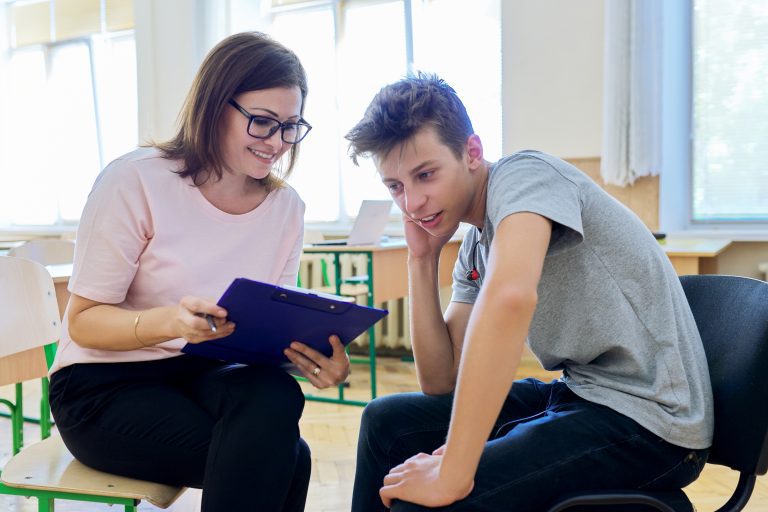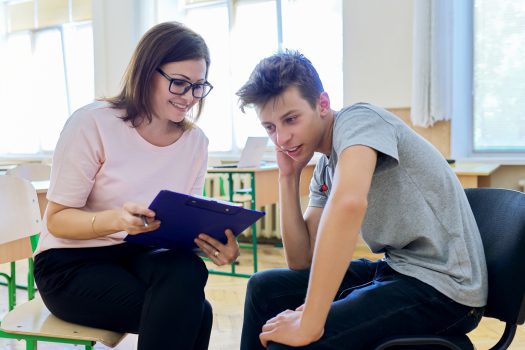 We work hard every day to provide you and your family and carers with the support you need to get more out of life today.
Led by our highly qualified team of clinicians, our NDIS services deliver a range of NDIS capacity-building supports. We provide therapeutic, positive behaviour and employment outcomes to Australians living with disability.
Our NDIS-registered services are critical for people living with disability to develop a sense of wellbeing and independence.
Read on for an overview of each of our services and NDIS capacity-building supports, and how you can benefit from them.
Occupational Therapy
Our NDIS Occupational Therapists (OTs) have the equipment, skills and qualifications to carry out assessments and clinically based interventions, to help you do the things you want and need to do. Our OTs have experience supporting a wide range of participants with their needs, including occupational therapy for adults with autism, occupational therapy for ADHD, and more.
Using the latest research and technologies in their field, our OTs assess and design rehabilitation programs that are evidenced-based, efficient and effective. We offer a range of NDIS capacity building supports, tailoring your support plan to fit your unique goals and needs. This ensures that you (or someone you care for) are always receiving the highest quality services.
The benefits
With a focus on physical, psychosocial, sensory or cognitive disabilities, our OTs can help you improve your ability to perform a variety of tasks in your home and community. Carry out self-care tasks, explore housing or driving options, undertake home modifications or find out about assistive technology — whatever your goals may be.
Our work in practice
OTs are trained to prescribe mobility aids, so when a 52-year-old man sustained a lower limb fracture, one of our OTs prescribed a rollator frame (mobility aid with no wheels). This helped him to reduce the weight he put through his affected limb, through upper body support, allowing him to maintain his mobility levels during rehabilitation. During the six to eight weeks it takes for bones to heal, he progressed from a rollator frame to a four-wheeled walker, to a walking stick, until he was able to mobilise without a mobility aid.
Exercise Physiology
Ability Action Australia's NDIS registered Exercise Physiology service uses the power of exercise to help your body and mind. Our experienced Exercise Physiologists (EPs) can provide you with a customised exercise program, giving you the tools to self-manage your condition and improve your quality of life.
The benefits
Our EPs can help treat and manage specific conditions using a range of exercise-based NDIS capacity-building supports. They can help you understand your condition and learn how best to manage and improve your health circumstance to become more independent and achieve your goals.
The benefits of an exercise physiology program tailored specifically for you include:
Improved mental health, wellbeing and self-esteem
The ability to effectively self-manage your condition
Improved mobility and physical function
Pain reduction
Greater independence and the ability to achieve important life goals
Our work in practice
If you are living with disability, there are a number of lifestyle changes that you may need to manage. Your condition may mean that you are experiencing one or more of the following:
Reduced mobility
Inactivity
Deconditioning
Depression
Fatigue
Weakness
Balance issues
An EP can give you the tools you need to manage these health issues, with an exercise program that improves your cardiovascular fitness, muscular strength and balance, and decreases your symptoms of depression and anxiety, and reduces pain.
Physiotherapy
Our NDIS-registered Physiotherapy service uses physical techniques to improve movement and function, treat and reduce pain, and make everyday tasks easier.
At Ability Action Australia, our team of Physios treat a broad range of conditions across paediatric, pain, neurological, musculoskeletal, and mental health areas.
The benefits
We provide lifestyle advice and prescribe exercises and aids to make daily tasks easier and help you get more out of life. Our Physios can treat and manage:
Developmental delays in children
Pain
Incontinence
Neurological conditions like Parkinson's disease or multiple sclerosis
Chronic diseases like diabetes, osteoarthritis, osteoporosis and obesity
Stroke
Rehabilitation after surgery
Our work in practice
Physiotherapists work with people of all ages and abilities, including children, from birth all the way up through childhood, adolescence and young adulthood.
They will often treat developmental disorders such as autism spectrum disorder, neurological conditions such as cerebral palsy, and musculoskeletal conditions. Physios also work with children living with genetic or congenital conditions such as Down syndrome, foetal alcohol syndrome and spina bifida, and intellectual disabilities.
Psychology
Our experienced and compassionate team of psychologists offers services for Australians with an NDIS plan who have funding for therapeutic supports.
We provide NDIS psychological services for participants aged seven years and older.
The benefits
Psychology can improve your ability to relate to family and friends, connect with your local community, and enrich your quality of life.
There's strong evidence for the benefits of psychology for participants living with a range of conditions, including physical, psychosocial, neurological, cognitive and intellectual disabilities.
With the support of our Psychologists, you can benefit in the following ways:
Specialised assessment, diagnosis and treatment of mental health, behavioural and emotional conditions to help you develop and work towards your goals
Assessment of cognitive or intellectual functioning to guide treatment or vocational goals
Rehabilitation and management of cognitive difficulties, such as problems with memory, attention and planning
Support with adjustment to a new health condition or challenges related to a lifelong disability
Support around issues including grief, loss, depression, self-esteem, motivation, goal setting, anger, social skills identity, interpersonal conflict and managing fatigue
Identifying strategies to better cope with stress, life changes and connections with others
Our work in practice
If you live with disability and need support with social skills, emotional regulation, self-esteem and anxiety, our NDIS-registered Psychologists can help. For example, your plan might include funding for assessment and therapy to help build your independence, engage more in your community, and improve your health and wellbeing.
Our Psychologists will work with you, your family and care staff to help you develop skills for managing anxiety, stress, and mood disturbance, or find appropriate community-based programs to enable more meaningful engagement in daily life.
Positive Behaviour Support
atWork Australia is a registered Positive Behaviour Support NDIS provider.
If you or your loved one displays behaviours that others consider challenging or unsafe, Positive Behaviour Support can help with understanding and addressing the behaviours of concern.
Challenging behaviours are defined as any behaviour that puts you or those around you (such as families, peers and carers) at risk, or lead to a poorer quality of life. These behaviours can also impact your ability to engage in everyday activities.
Our Behaviour Support Practitioners are trained in behaviour support strategies and work with children and adults living with all disability types to manage behaviours, while protecting dignity and promoting quality of life.
The benefits
Our team of specially trained and NDIS-registered practitioners will undertake a functional assessment and use that to prepare a behaviour support plan, in consultation with you and your support network.
The plan contains evidence-informed strategies aimed at helping people learn more effective and acceptable skills. These strategies also help carers identify the triggers for challenging behaviour so they can intervene before the behaviour escalates.
A good plan can improve quality of life in many ways:
Better living and working spaces – such as reducing loud noises
Stronger community connections – through more enjoyable activities to keep you involved
Positive relationships – getting you involved in meaningful relationships with others
Our work in practice
We support children who may be struggling in the school environment and displaying aggression towards other students and teachers. Our practitioners will liaise with all stakeholders to understand these behaviours, which may be due to separation anxiety and a need for connection.
Through a behaviour support plan, we can introduce changed routines at home, school and in the community. For instance, parents may be encouraged to pick up their child from school for a period of time and spend regular quality time together to create structure. Teachers may be encouraged to plan their lessons around areas of interest, such as solar system art activities, and provide the child with lots of praise in the classroom.
These strategies can increase the child's engagement in the curriculum and make a big difference in the home as well.
Employment-related Assessment and Counselling
Having a meaningful job impacts multiple aspects of your wellbeing. It can provide you with healthy self-esteem, enough money to live on, and a sense of purpose and belonging. You're also more likely to have friendships and an optimistic outlook on life if you're working.
Employment-related Assessment and Counselling refers to NDIS capacity-building supports that provide workplace assessment or counselling to assist participants to successfully engage in employment.
The benefits
atWork Australia can help you achieve greater wellbeing by supporting you to find work and achieve your employment goals, however long it takes.
Through the NDIS, we offer:
Employment-related assessments
Vocational counselling
Delivered by fully qualified psychologists, these services identify suitable employment options for people living with disability, as well as establish your best pathway to employment.
Employment-related Assessment and Counselling supports you to plan for your future, offering support with:
Vocational counselling and planning
Redefining your career goals
Exploring your purpose
Building emotional and mental resilience
Overcoming work challenges
Assessment tools supporting decision-making
Soft skills training
Our work in practice
Our Psychologists can help you achieve positive change in your life and provide you with a greater level of support to help you explore your potential career choices and develop your occupational goals. Through the employment-related assessment, we analyse your transferrable skills, experience and qualifications, and help you identify your employment potential and career opportunities. We also consider if you have any medical restrictions in place, as well as any reasonable adjustments to increase your independence and maximise your capacity at work.
Through our vocational counselling, we work with you to establish a plan to manage your barriers and reach your employment goals. We can provide you with strategies to improve your self-confidence and overcome what may be preventing you from looking for work or staying in a job.
School Leaver Employment Support
We understand the transition to life after school can feel overwhelming, so Ability Action Australia supports NDIS participants of school leaving age to prepare for this adjustment.
Our School Leaver Employment Support service is an early intervention approach that helps to build foundation skills and set you up for job success. It helps you work out what future employment opportunities are available and what prospects are right for you.
The benefits
We work one-on-one with you to explore your strengths, build your confidence, and create a plan that's tailored to your needs. We equip you with the skills, knowledge and real-world experience to enter work or further training with confidence.
Whether you're eager to join the workforce straight away, or thinking of doing some further study or training, we're here to get you feeling positive about your future. Even after you begin work, we stay connected to make sure you're happy and thriving in your new role.
Our work in practice
The type of support our Employment Advisors offer varies with the individual, but typically includes:
Employability skills
Other foundation skills such as money handling and transport training
Work experience in an inclusive employment environment
In one of our cases, a young person with Down syndrome learnt more about public transport as well as time management skills so she could get herself up in the morning and have time to shower and dress, and make her lunch. With these new skills, she's now able to get to work on her own each day, arrive on time in a calm frame of mind, and do her job well.
Contact us to learn how our NDIS capacity-building supports can support your goals
Ability Action Australia offers many NDIS capacity-building supports to build and maintain your abilities. We'd love to talk to you about how our services can provide the support and resources you need to live the life you choose. Please contact us on 1800 238 958 or email hello@abilityactionaustralia.com.au