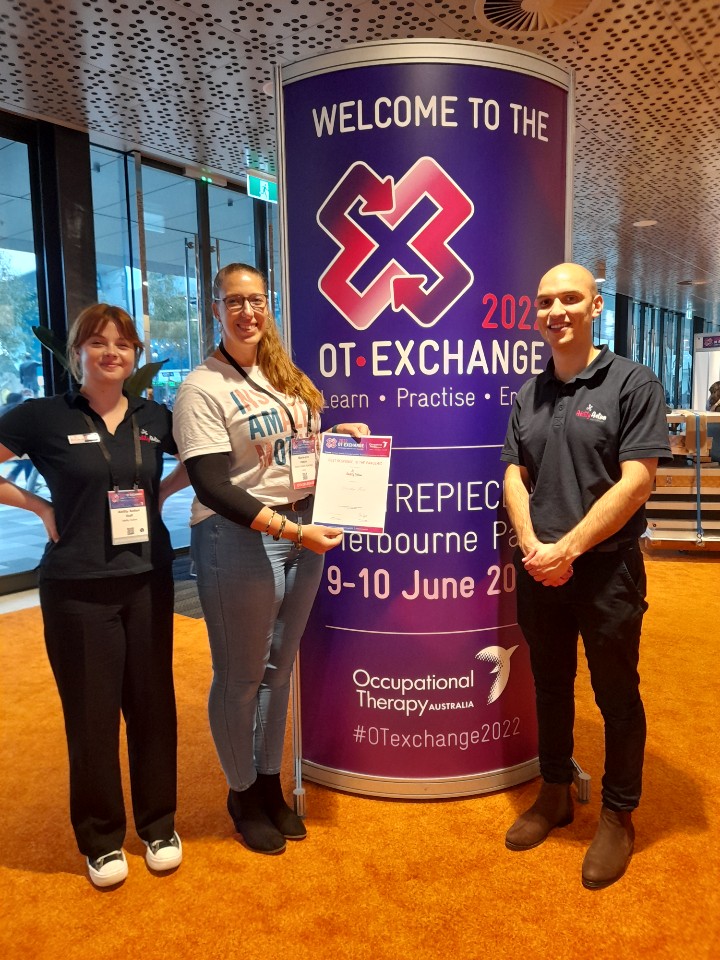 Ability Action Australia proudly presented at the recent OT Exchange 2022 in Melbourne and was honoured to receive the 'Best Response to the Pandemic' Award.
Hosted by Occupational Therapy Australia, the conference brings together professionals working within the broad spectrum that is occupational therapy, to exchange and discuss important ideas. Ability Action Australia's Head of Projects and Workforce Partnerships, Dorothy Frost, was selected to present on the application of telehealth services for NDIS participants during the COVID-19 pandemic.
The global pandemic and its related restrictions had a significant impact on the delivery of Occupational Therapy services for NDIS participants over 2021. Due to uncertainty around the duration of restrictions, it was important to devise alternatives to in-person service delivery while maintaining effectiveness and quality of services.
The Ability Action team undertook an initial literature review of telehealth initiatives, both local and international, to explore learning from similar organisations. This in combination with a needs assessments of our participant cohorts led to the development of a participant centred telehealth program.
The program was further strengthened by the flexibility and motivation of Ability Action Australia's clinicians in 'pivoting' to a telehealth model of service delivery. Through shared learnings, clinicians began to evolve their services and develop innovative ways to conduct sessions.
Telehealth will always remain an option for service delivery, particularly when face to face delivery is not possible due to ill-health, risk of infection, geography, or cost.  With adequate planning, supports, tools, and experience, it can be an effective mode of service delivery suitable for a diverse range of cohorts.
To learn more about Ability Action Australia's award-winning approach to telehealth services, access our white paper – 'Why Telehealth for Disability Service Provision May Continue to Grow'.
Ability Action Australia looks forward to being part of the OT Exchange in 2023!
Are you keen to learn and advance your allied health career in a supported environment? Act now! Positions available across Australia.