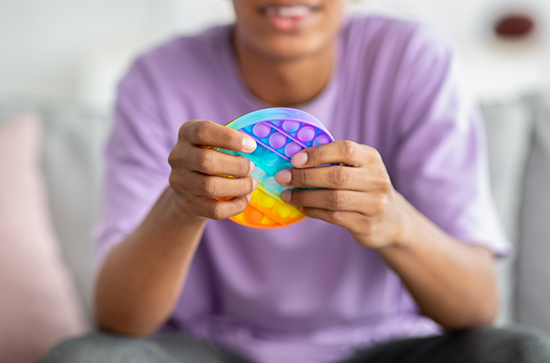 Rachel Ownsworth is always on the lookout for ways to make a difference to the lives of her clients that carry real weight, even when this seems unachievable.
Recently the Sydney-based senior occupational therapist was able to negotiate a win for one of her more disadvantaged clients, Daniel, who's been diagnosed with autism spectrum disorder and experiences severe sensory challenges that have a big impact on his daily life.
Daniel is 10 years of age and one of eight children in his family, five of whom are on the NDIS. This would be challenging for any family but is particularly so for Daniel's as his mother is unable to read, write or speak English or read or write in her primary language.
Sensory issues
Rachel has been working with Daniel to manage his sensory challenges, which in his case means he looks for more sensory input and movement by hitting himself, yelling and screaming, spinning and twirling, and eating and chewing anything he can put in his mouth.
He's also non-verbal and unable to complete daily functional tasks – such as brushing his teeth or hair, getting dressed or getting ready for bed – without help.
During her years of experience, Rachel has found low-cost items such as toys are particularly valuable tools for people with sensory processing challenges like Daniel, and can help with calming down and focusing better on tasks.
But even though anecdotal evidence and even some studies suggest sensory toys have therapeutic benefits, there's not enough scientific evidence to support their use in occupational therapy for kids with autism. As a result, the NDIS often requires the parent or guardian to buy them.
Looking outside the box with occupational therapy toys
With the family unable to afford the toys, Rachel decided to get creative by calling a few companies who sell sensory products to see if they'd be willing to make a donation.
Jody from Sensory Oasis for Kids responded immediately, saying she'd be more than happy to help out and provide Rachel with items for the family, particularly as she has three boys on the spectrum herself and understands the difference they can make.
Rachel is set to receive the toys this week and is thrilled about using them with Daniel so he can find ways to deal with sensory input and become more open to learning and completing daily tasks in the future.
Both Rachel and Ability Action Australia wish to thank Jody for her generosity in donating these sensory toys and in doing so helping an underprivileged child to live more independently.
For more details see: www.abilityactionaustralia.com.au and www.sensoryoasisforkids.com.au