Ability Action Australia's South Australia team is making a significant impact by providing outreach services to Kangaroo Island. The remote location makes it challenging for people living with disability to access NDIS services, and our SA team have identified this as an exciting opportunity to support the community. The journey to Kangaroo Island highlights our commitment to this initiative which includes a two-hour drive from Adelaide to the ferry port, a one-hour ferry ride, and another hour drive to reach the main town of Kingscote.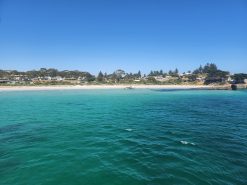 Despite these access challenges, Rebecca Bailey, Occupational Therapy Team Leader, visits Kangaroo Island once every three weeks to deliver Occupational Therapy and Functional Capacity Assessments to around 20 NDIS participants. These participants range from paediatric participants requiring school-based sessions to adults needing assistive technology or assessments.
Rebecca's experience on the island has been nothing short of amazing. She remarks, "As a practitioner, the standout for me is the strong sense of community on the island and the enthusiasm to engage in therapy and implement OT strategies in the home, community and school."
Rebecca has been making significant progress with her outreach work, providing multiple participants with assistive technology and equipment to enable increased participation, including bringing trial items from the mainland. She has also seen meaningful outcomes in the paediatric space where emotional regulation and attention strategies are increasing engagement in schooling.
The outreach work to Kangaroo Island demonstrates our clinician's tenacity and commitment to support participants to get more out of life today. Despite the access barriers, our South Australia team has been making a positive impact, and as demand grows, there is scope to introduce additional services to support even more people on the island.
This initiative has been impactful and heartening, and Ability Action Australia aims to continue making a genuine difference in the lives of people with disability on Kangaroo Island.
Learn more about our NDIS capacity-building supports and how we can support your goals.
We'd love to talk to you about how our services can provide the support and resources you need to get more out of life today. Contact us on 1800 238 958 or email hello@abilityactionaustralia.com.au